"redBlog ASP personal blog suite" is not affiliated with RedBLoG php.
Blue Puff's redBlog - personal blog suite requires no coding

redBlog requires a stable PC, free of viruses, protected by a firewall, connected to the net

to get started with redBlog, determine the results of the following test.
after the test is completed successfully you are ready to install redBlog!



1.) Type http://localhost into your browser and see what comes up.

2.) Depending on the results of your test, you should see a Welcome screen.


redBlog files reside in your localhost root folder, in a subdirectory: redblog
you can install redBlog using our Setup program, or manually with zip files
to access your localhost from other places, you can type in your IP address:
http://55.555.12.12 This is hard to remember; we recommend FreeDNS


Preview your new redBlog: The header below replaces your normal blog header when you need to make changes. Each symbol on the menu changes the URLs of your blog content, allowing you full control from one page.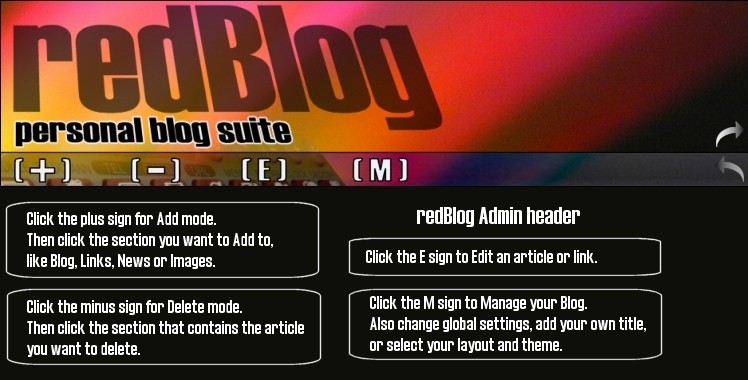 Benefits to hosting your own blog:

1.) Don't pay for extra services like blog-hosting at blogspot.com; host from your broadband connected PC and get more value from your broadband connection.
2.) According to the Terms of Service at blogster.com, your blogs can be deleted at anytime and they are not liable (of course). You can have peace of mind backing up your blog when you need to.
3.) Customize the client-side and server-side code of your pages with free templates.




Release Date: TBA


About Self-Edit Technology by Benjamin Lindelof


Simple login keypad screens!
Access your Windows XP User Authentication from anywhere.
One page ASP serves all pages on the entire website
using easy to change templates.

Point-And-Edit makes it easy for you edit pages online.
New/Custom Windows XP GUI controls for a User-Friendly environment.

Private, Secure, Family-Oriented Software.
Multiple User, Organizer, Custom Browsing and Content.
PDA, RSS, Flash compatible, Google Searchbot Compliant.
Websites that look great for your intended audience.

Self-Edit gives you control over your data.
Without coding, bugs and headaches. Are you looking for a custom storefront for
your eBay stuff? Edit your own catalog online with Self-Edit technology from Blue Puff.

Blue Puff Blog Software relies on Self-Edit technology, an ASP open-source product
that relies on the power of Microsoft Windows XP Professional
and your Broadband connection.
Click here to purchase Family Pro or
a Custom Blog Solution for your PC.
Custom ASP Applications Suites
Integration with Legacy Systems and SharePoint

- or -

Get Started with your own blog today!